---
Concert no.6 – Piano jouet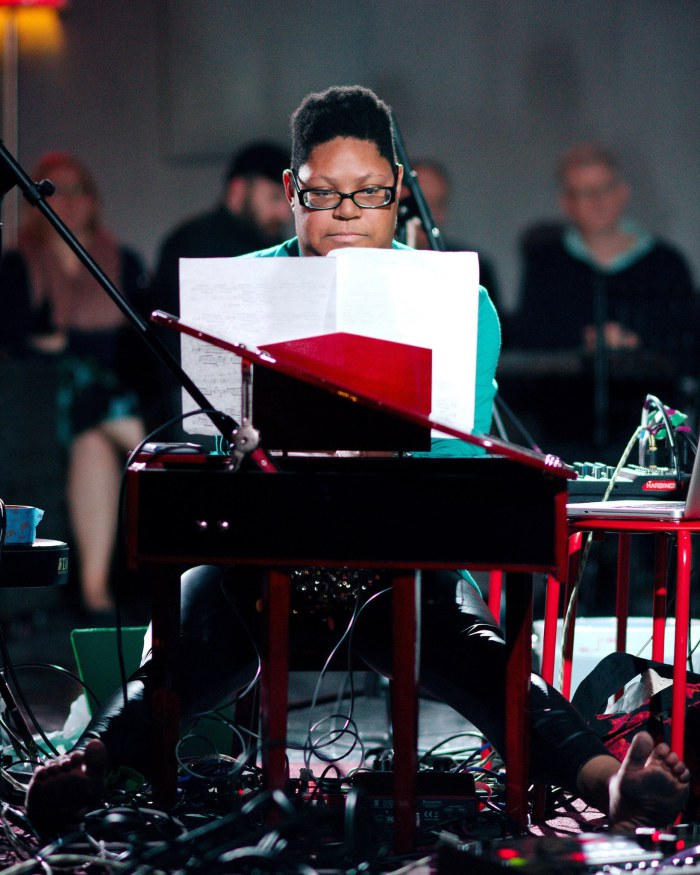 ---
l'Ao welcomes New Renaissance Artist Elizabeth A Baker and her toy pianos.
Friday, October 28, 2016
8:00pm (doors open @ 7:30)
@ NOMADLOFT – by invitation only
Celebrated for her "terrifying dynamic range," cleanliness of sound, as well as unique sensitivity and ability to sculpt her performance for the acoustics of a space,
Elizabeth A. Baker
is a dramatic performer with an honest, near psychic connection to music, which resounds with audiences of all ages and musical backgrounds. As a creator, her understanding of sonic space from organic intuition and studies in music production, pair with a unique eclectic voice, making for a spatial and auditory experience of music. Eschewing the collection of traditional titles that describe single elements of her body of work, Elizabeth refers to herself as a "New Renaissance Artist" that embraces a constant stream of change and rebirth in practice, which expands into a variety of media, chiefly an exploration of how the sonic world can be manipulated to personify a variety of philosophies and principles both tangible as well as intangible.
An active performer highly sought after for her unique concert presentation methods, which break the fourth wall and draw the audience further into the music by asking them to listen beyond the surface through interactive dialogue, reminding them that there is no such thing as an incorrect interpretation of a work. Elizabeth firmly believes that every person will encounter music in a unique manner because each person comes from a different set of cultural norms, life experiences, and even the way they physically hear can be a factor to consider when seeking to relate with a work. Her solo concert tours have featured engagements at Lamar University (Beaumont, TX), Flying Monkey Arts Collective (Huntsville, AL), Eyedrum (Atlanta, GA), Southern Methodist University (Dallas, TX), and the Good Shepherd Chapel (Seattle, WA).
Emmy-award winning composer Larry Groupé has referred to her works as "Perfect." and compared one of her early works to Debussy's Engulfed Cathedral. Elizabeth's works have been featured by Composers Circle, FIVE by FIVE, TEDxYouthTampaBay, Tampa Mini Makers Faire, Orlando Mini Makers Faire, as well as at the 2014 Electronic Music Midwest Festival and the 19th International Festival of Women Composers. Her compositions have been studied in academic institutions throughout the United States including USC-Thornton and the University of Georgia – Athens.
In 2015 she received an Individual Artist Grant from the Saint Petersburg Arts Alliance and the City of Saint Petersburg, Florida to create and present an original sound installation In Our Own Words: A Sonic Memory Quilt, which told the stories of various African-Americans in a fresh avant-garde manner, framed by evolving drones and a four-hour live performance by Elizabeth.
In addition to her work on the concert stage and on the page writing for other performing artists, Elizabeth has extensive training in recording arts, live sound reinforcement, and consistently received praise as well as high marks for the artistic sensibility and technical excellence of her mixes at St. Petersburg College, where she studied closely under mastering engineer Dave Greenberg. Today, friends and colleagues across the globe, frequently look to her as a consultant on projects for her skills as both a recording and mix engineer.
Combining her love of electronics and keyboard instruments, Elizabeth embarked on a mission in 2015 to promote works for toy piano and electronics, using a setup that combines handmade microphones and hydrophones. Her original works have been hailed by the Orlando Weekly as "a sterling testimonial to her artistry that proves she's not just an expert in the toy piano field but a pioneer." In Fall 2015, Schoenhut Piano Company added Elizabeth A. Baker to their official artist roster.
In Summer 2016, Elizabeth embarked on creating the score for a film project headed by the brilliant dancer-choreographer Helen Hansen French, which explores the experience of being an artist-mother. The Motherhood Project workshop, presented in relation to the film featured a live dance performance with Elizabeth accompanying Helen's choreography with toy piano, electronics, and Indian harmonium, a keyboard instrument that rarely appears on the Western musical concert stage. A sensitive improviser, with experience in a wide array of genres, Elizabeth is a frequent collaborator for Jim Ivy's Tangled Bell Ensemble and other improvisational projects throughout Florida.
Elizabeth is author of Toyager: A Toy Piano Method, the first comprehensive instructional book for toy piano, featuring principles of technique, practice strategies, music notation, as well as improvisational tactics.
Elizabeth is Founder and Executive Director of The New Music Conflagration, Inc., a not-for-profit corporation founded in the State of Florida to promote the work of contemporary composers and musicians. She is also, Co-Founder and Festival Director of the Florida International Toy Piano Festival.
//\\//\\
You can find Elizabeth's book, Toyager: A Toy Piano Method, on Amazon.
You can find Elizabeth's music on her BandCamp page.
[photo credit: Jim Lennon]
Soft Series is a concert series dedicated to presenting soft premieres of new music in an intimate environment with lively pre- and post-concert conversation.
---