---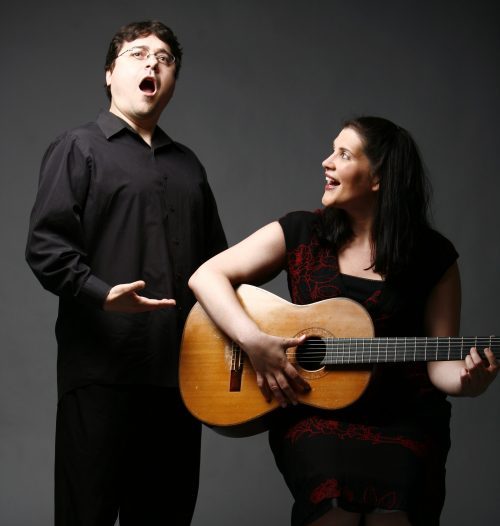 ---
l'Artiste ordinaire welcomes The Bowers–Fader Duo
[ Jessica Bowers, mezzo-soprano; Oren Fader, guitar ]
Friday, March 24, 2017
8:00pm (doors open @ 7:30)
@ NOMADLOFT – by invitation only
---
Program
Photon Ecstasy (Kepler-19) [preview]
music: l'Ao (after Vincenzo Bellini's La Sonnambula)
The Maldive Shark
words: Herman Melville
music: David Claman
Ganga Yamuna
words: Ved Vatuk
music: David Claman
The Lone Tenement
words & music: Erin Rogers
My Love
words & music: Ana Milosavljevic
Volvelle
music: Melissa Grey
Light Arriving on the Infinite Ocean
music: Judith Sainte Croix
Places Among the Stars
words: Stephen Crane
music: Hilary Purrington
Three Little Birds
words: Stephen Crane
music: Hilary Purrington
Finding One Self
• A Charm
• A Young Woman
• Who is I?
• Roman Elegy
words: David Ferry
music: Paul Salerni
Beyond Words
words: Kevin Young
music: Paul Salerni
---
Created in 2009, The Bowers-Fader Voice and Guitar Duo (Jessica Bowers, mezzo-soprano, Oren Fader, guitar) performs in New York City and across the US. Recent concerts have taken them to Washington State, Virginia, and Pennsylvania, as hosted by the Classical Guitar Society of Northeastern Pennsylvania. The Duo performs classical works of Mozart, De Falla, Brahms, Weill, as well as contemporary works. Composers writing for the Duo this season include Judith Sainte Croix, Martin Rokeach, Frank Brickle, Melissa Grey, David Claman, and Paul Salerni.
Outreach activities for the Duo include free concerts each year for the Lighthouse Guild for the Blind, and Beginnings, a social program for seniors supported by Renewal Care. This year the Duo has performed in New York City, Honesdale, PA, and Manchester, VT as part of the Manchester Music Festival. This fall, the Duo presented a concert of new American art songs at Tenri Cultural Institute, featuring 5 world premieres, 3 of which were based on poetry by living authors. In the coming months, the Duo will be performing and recording works by Paul Salerni, performing works by l'Artiste ordinarie (Melissa Grey & David Morneau), performing with Composers Concordance, and working on a new song cycle by Frank Brickle. For more information please visit www.bowersfaderduo.com
//\\//\\
Established in January 2016, l'Ao is a collaborative partnership between composer-performers Melissa Grey & David Morneau that has launched electronic performances and Soft Series, a concert series dedicated to presenting soft premieres. l'Ao has performed at Strange Stage (Brooklyn); North Country Electronic Music Festival (Vermont); Electroacoustic Barndance (Virginia); and twice at the University of Pennsylvania's Kislak Center. Their first collaboration, Gadget Berry Dimple: A Glossary of False Translation (Benjolin, Merlin, Spoken Word), was performed for Hans Tammen's Rakete bee bee? Rakete bee zee! 100th Anniversary of Dada at Spectrum NYC. The text for Gadget Berry Dimple: A Glossary of False Translation has been published by Circumference journal, which supports poetry in translation. Soft Series has featured thingNY/Varispeed, Miolina, Craig Hultgren, Elizabeth A. Baker, and the Bowers-Fader Duo; future artists include Monroe Golden, Nicole Antebi, Paula Matthusen, and Eve Beglarian. Soft Series is live-streamed and archived by Clocktower Radio.
l'Ao's Photon Ecstasy is a concert-length performance project that engages music, sound, science fiction, and interactive light. It premiered at the University of Pennsylvania's Kislak Center in conjunction with the exhibition of artist Dan Rose's DNA-Photon Project (October 2016). New York Arts wrote that with repeated listenings "there's more to be moved and impressed by, to learn from…." In January 2017, l'Ao joined New Renaissance Artist Elizabeth A. Baker for a collaborative performance of Photon Ecstasy (DP Leonis b), which premiered at The Florida International Toy Piano Festival, St. Petersburg, Florida. In April 2017, l'Ao will perform Photon Ecstasy (HD 7924) at Rutgers University; in September, they will perform with bass clarinetist Tom Piercy at Barge Music (Brooklyn).
Kepler–19 is a G7V star in the vicinity of the NGC 6791 cluster of Red Giant type stars that are "singing stars". The cluster is in the constellation Lyra. It is host to planets Kepler-19b and Kepler-19c.
//\\//\\
David Claman (b. 1958) hails from Denver, Colorado. He holds degrees from Wesleyan University, from the University of Colorado, and from Princeton where he completed his Ph.D. in music composition in 2002. He is an assistant professor at Lehman College-City University of New York in The Bronx.
The Maldive Shark sets a poem by Herman Melville and is about a shark and its pilot fish and was written specifically for Oren and Jessica.
Ganga-Yamuna sets to music a Hindi poem written by Ved Prakash Vatuk, who also happens to be my father-in-law. It tells of two people whose lives join together to form a greater whole, just as the Ganges and Yamuna rivers which meet to form a larger river.
//\\//\\
Erin Rogers is a Canadian saxophonist, composer and performance artist based in New York City. Her works have been performed by the Stony Brook Contemporary Chamber Players, Loadbang, Anubis Quartet, thingNY, Lost Dog Ensemble, IKTUS Percussion, Project Fusion, and Madrid's Tribuna Sax-Ensemble. She has played with the International Contemporary Ensemble, Copland House, wild Up, and mise-en, and is co-artistic director of the experimental performance ensemble, thingNY, and founding member of the New Thread Saxophone Quartet and Hypercube. In 2014, Erin was awarded a Jerome Fund Commission from the American Composers Forum for Mother Earth, a work for flute, sax quartet and electronics, that premiered at Carnegie Hall. Her work Trajectories was featured at the 2015 Ecstatic Music Festival, and she was a showcased performance artist on the 2016 Prototype Festival "Out-of-Bounds." www.erinmrogers.com
The Lone Tenement for Mezzo soprano and guitar, is the second in a series of my "Sounding Image" series, where visual works of art are brought to life through song and sound. A detailed description of The Lone Tenement, a 1909 painting by George Bellows comprises the text of the work, the guitar shading each phrase of the voice in near-unison, punctuating the work with moments of palpable expression.
Beneath an overhead bridge,
Red, with rooftop peaks,
Stands a lone brick building,
Six floors high.
Length double the width,
Height triple the length,
Mostly shaded.
The top of the building bathed in sunlight.
Two windows on each floor.
The building looks strange with no neighboring buildings pressed against it.
Writing and signage cover the facing side,
Where the brick is faded.
To the left,
But still connected,
A fence or gate of sorts.
Slightly passed the gate,
In the shade directly below the bridge,
Folks gather around a fire.
A dozen or so,
Dressed mostly in black,
Mostly in hats.
Some lean into the flame,
Others talk in pairs.
One is in motion.
Further to the left,
One demonstrates a baseball swing,
While another squats in a catcher's position.
Two others look on.
The clothing and activities indicate that the gatherers are all men.
Amen.
On the right,
A large, horse-drawn wagon,
With a horse.
In the distance,
A steamboat sits on the river,
Its plume of smoke billowing straight vertical.
These tools of transport appear stationary at the moment
On the left,
Two leafless trees,
Tall and dark,
Covered in branches.
To their left,
A clump of shorter buildings.
Even further back,
Upon the water's edge,
A bright orange building bathed in sunlight,
Smokestack in front,
Under a grey sky,
Next to a blue river.
Beneath the bridge lies a glassy puddle.
//\\//\\
Ana Milosavljevic is the Drama Desk Awards-nominated composer ("inventive," "graceful," "showpiece" works – The New York Times), and multi-instrumentalist on violin, Viper electric violin, and piano. A MacDowell Colony Fellow, Ana has been featured as a composer and soloist at Carnegie Hall, the Kennedy Center, Lincoln Center, the TimesCenter, the Stone, Le Poisson Rouge, Off-Broadway, and major international festivals. Her music was commissioned and performed by the Sheboygan Symphony Orchestra, Throes Theater, Grammy Award winner Robert Mirabal, ETHEL, Ensemble Metamorphosis, percussionist Shane Shanahan, pianists Kathleen Supove and Vicky Chow; featured in performances by TAKE Dance and The Juilliard Dance; recorded on Innova; and broadcast on BBC, WNYC, WPRB, and WQXR / Q2 radio stations. Ana's website is www.anamilo.com.
"In early February 2017, The Bowers-Fader Duo asked me to write a new work. I have decided to compose a song, for which I created both music and lyrics. This is a song about love. In this version, the words are in Serbian and English language."
//\\//\\
Melissa Grey's music – "elegantly diabolical…strikingly eerie and captivating" (furtherfield.org) – includes concert works, electronic performances, food and sound events, and collaborations with artists, designers, musicians and other composers. With composer David Morneau, she has established l'Artiste ordinaire (l'Ao), a collaboration that explores methods for creating and performing music.
Volvelle mines fragments from the solo repertoires of Jessica Bowers and Oren Fader to merge into a new piece for their duo. Recombined and reconsidered with ornamentation, these fragments are put into random motion via combinatorial wheels, which are based on an ancient technique designed to activate and fuel the imagination.
//\\//\\
Judith Sainte Croix won the International Theodore Front Award for her orchestral work, "Vision V," in which she performed as a synthesizer soloist at Carnegie Hall. She has received support for her music from foundations, corporations, and public and private funding sources.
In the song Light Arriving on the Infinite Ocean the lyrics are an invented language – as it is a force of nature, Light, arriving in the music. Some recognizable words may appear to shine through and the message is in the imagination of the listener.
//\\//\\
Hilary Purrington is a New England-based composer of contemporary classical music. Her work has been recognized by the American Academy of Arts and Letters, the American Society of Composers, Authors, and Publishers (ASCAP), and the National Federation of Music Clubs (NFMC), among others. In the summer of 2012, Purrington received funding through a Wagoner Foreign Study Grant to study Music Composition and German Language at the Freie Universität Berlin, and in the summer of 2013, she participated as a Fellow at the Norfolk Chamber Music Festival's New Music Workshop. Most recently, Purrington's music was featured on the 2016 NY Phil Biennial's New Music New Haven concert. Her music has been performed by many distinguished ensembles, including the Peabody Modern Orchestra, the Yale Philharmonia, ChoralArt, and the American Modern Ensemble. Recent commissions include new works for the Chicago Harp Quartet, the Musical Chairs Chamber Ensemble, and the Melodia Women's Choir of NYC. Upcoming projects include new pieces for Washington Square Winds, inFLUX, and the New York Youth Symphony. Purrington holds degrees from The Juilliard School and the Shepherd School of Music at Rice University. She is currently pursuing a Master of Musical Arts at the Yale School of Music. www.hilarypurrington.com
"I composed Places among the stars and Three little birds in 2014. Originally for mezzo-soprano and string quartet, these two pieces are part of a larger song cycle featuring the poetry of Stephen Crane. "Places among the stars" captivated me with its expressive lyricism and imagery. "Three little birds," on the other hand, stood out because of its whimsy and lightheartedness (rarely found in Crane's poetry). I revisited the two pieces in 2017 and created new arrangements for the Bowers-Fader duo. Many thanks to Jessica and Oren for learning and performing these songs!"
//\\//\\
Composer Paul Salerni's music "pulses with life, witty musical ideas and instrumental color" (The Philadelphia Inquirer), and has been described by the New York Times as "impressive" and "playful." Henry Fogel has said "It is…music that sings and dances." Salerni's numerous commissioned orchestral and chamber music works have been performed throughout the US, Canada, Europe and China. Salerni's one-act opera Tony Caruso's Final Broadcast won the National Opera Association's Chamber Opera competition in 2007, and a definitive recording of the opera was released on Naxos. His second one-act, The Life and Love of Joe Coogan, an adaptation of a Dick Van Dyke TV Show episode, had its premiere in September 2010. Both one-acts are published by Theodore Presser. Salerni's most recent large-scale project was a ballet (FABLES) commissioned and premiered by Rioult New York. A CD of Salerni's chamber music ("Touched) was released by Albany Records in 2015. A second CD of chamber music entitled "Speaking of Love" was released in 2017. Salerni is the NEH Distinguished Chair in the Humanities and Professor of Music at Lehigh University, where he teaches composition and theory. He served for seven years on the Board of Directors of the Suzuki Association of the Americas, including two years as its Chair.
"I first became aware of David Ferry late in 2015 while reading at article about him in my Amherst Alumni Magazine. There I learned that David, a 92 year-old Boston based poet, translator, and teacher, shared the same educational history as myself, but, moreover, that he was a wonderful poet. I started setting his poems, and when I asked for his permission to do so, he noticed that three of the poems I had chosen were "ekphrastic," that is, they were poems that describe paintings. Once I separated those poems into a cycle, both he and I realized that the other poems I had chosen were about identity. David suggested a couple more of his poems that I hadn't read that dealt with the same issue, and a second four song cycle was born. I first thought to call it "Songs of Identity," then "Finding Oneself," then "Finding One Self." During a delightful lunch my wife Laura and I had with David, he made the final decision about the title. After all, he's the expert wordsmith in this collaboration."
Finding One Self
A song cycle on poems by David Ferry
A Charm
I have a twin who bears my name;
Bears it about with him in shame;
Who goes a way I would not go;
Has knowledge of things I would not know;
When I was brave, he was afraid;
He told the truth, I lied;
What's sweet to me tastes bitter to him;
My friends, my friends, he doesn't love them;
I walk the daylight of his dreams;
He breathes the air of my nightmare;
A Young Woman
That she, with such gifts given,
in the abundance and grace
of her youth and sweetness,
as if in a garden, walking
in a summer of freshness
and of the wind lifting
and falling in a lavishing
of light and penultimate
shadow, that she should falter
at all through this phase
pressing, with hand outstretched,
the surface of the future
as one who is blind presses
the surface of darkness
of corridor, or wall,
for any assurance at all
may she be blessed
in this faltering forward
Who is I
Here inside the fiction of myself,
Two voices I hear, both of them mine,
I guess, one of them telling the truth, I guess
I don't know which one it is that's telling the truth.
The voice that said what it was it had to say
And heard what it said when it said it, and didn't know
Exactly what had become of the person who said
What it was he said just now, to tell the truth.
Always like this. Always it's been like this.
The one that told my parents who I was
And told my wife who I was, and told my children,
And told whoever it was I was talking to
So help me god, telling the truth, so help me
Roman Elegy VIII (Goethe)
When you tell me that you were unpopular as a child,
and that your mother spoke of you in a rueful
tone of voice, and that all this seemed to go on
for a very long, the slow time that it took
for you to grow up, I believe you, and I enjoy
thinking about that odd, awkward child.
The grapevine flower, you know, is nothing much
but the ripened fruit gives pleasure to men and gods.
"In 2014, I set to music poems by Seamus Heaney that were performed at a memorial for Heaney at Emory University. As the curator of the Heaney Collection at Emory, Kevin Young had organized that event. During that memorial, I got to hear poems by Young and many of his colleagues in the Dark Room Collective, a group of African-American poets originally based in Cambridge, Massachusetts. In searching for poems by these authors, I found Young's "Beyond Words," a text I could set that might appeal to the edgier, more electric side of the eclectic Bowers/Fader duo."
Beyond Words
by Kevin Young
Mudd Club 4th floor gallery
Manhattan, April 1981
If you bomb
the IND
Or tag the 2
downtown
–gallery-bound–
dousing it in tribal
shrapnel, you're it
–the shit–
If you can lie
between the rails
–Please Stand
Clear the Closing–
or press yourselves
betw. train
& the wall
spray can rattling
like a tooth —The roof
the roof
the roof is on
fire–soon
the 6 will whistle
past, swinging
like a night stick–
Office Pup throwing
a brick
@ that Mouse
Ignatz, in love–
#$!?!!!!–then
you'll have found
risk. A calling–
Crash, Daze, Pray
covering trains
like cave paintings,
avoiding the German
shepherds–ACHTUNG–
while the cars sit
in the yards
–what no one else in this
city owns. Making
their names
known–Dondi, Boy-
5, B-Sirius, Crazy
Legs, Coolie C–
The city clears
its throat
the subway shaking
the buildings above–
We don't need
no water let
the motherfucker
burn–Futura 2000,
Phase II, Quick
& Sex & Zephyr
& Lady Pink–
Fab 5 Freddy
(né Braithwaite)
saying everyone's
a star, "Rapture"–
the whole planet's in
on it–Chilly Most
Being the Host Coast
to Coast–Freddy's painted
Campbell's Soup Cans that read
DADA & POP instead
of beef barley–
the UFO has landed
& a brother's
stepped out, alien, dressed
in white. Then when
there's no more cars
he goes out at night
& eats up bars–
graffiti like 3 card monte–
running, avoiding the pigs
like a black muslim
bean pie. DJ spinning
says my my.
Pay attn.–
say, ain't that
Basquiat spinning
disks behind Blondie–
SAMO AS AN END
TO MINDWASH RELIGION–
45s stacked high
as a Dag-
wood sammich?
Hungry, this B-
boy's headed to the top–Yes
Yes, y'all
You don't stop—
blowing up.
Soft Series is a concert series dedicated to presenting soft premieres of new music in an intimate environment with lively pre- and post-concert conversation.
---