---
Soft Series Concert no.9 – EIOinD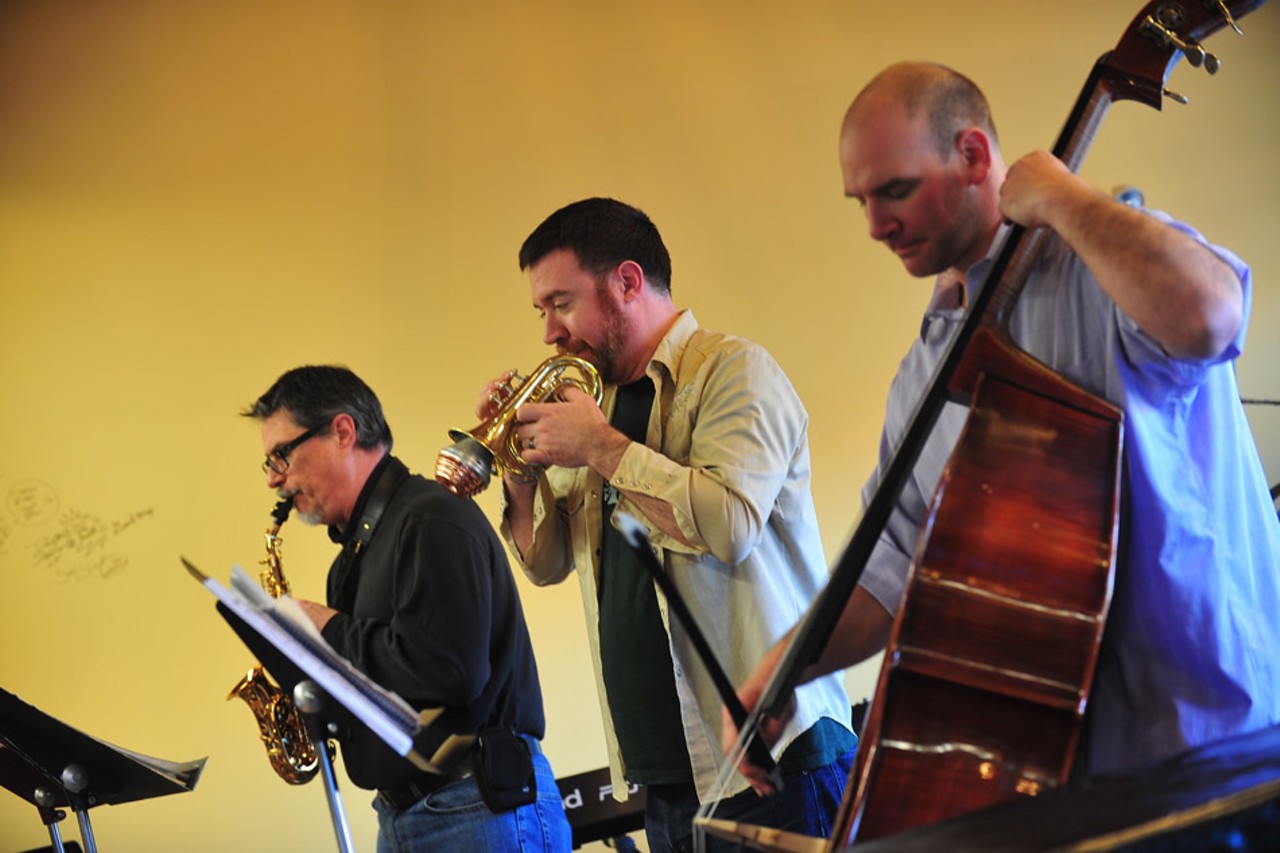 ---
l'Artiste ordinaire welcomes Ensemble of Irreproducible Outcomes
Friday, September 15, 2017
8:00pm (doors open @ 7:30)
@ NOMADLOFT – by invitation only
---
Program
Photon Ecstasy (Trappist–1)
music by l'Ao
performed by l'Ao & Ensemble of Irreproducible Outcomes
…city flexure…
music by Brian Padavic
performed by Ensemble of Irreproducible Outcomes
---
Photon Ecstasy is a growing catalog of compositions that engages music, sound, science fiction, and interactive light. It is an expansion of the mythology created by Dan Rose in his artist book, The DNA-Photon Project, which tells the story of a top-secret government project that converted the DNA of a young woman into photons and beamed them out to the stars in order to mate with intelligent life and expand humanity into the far future universe.
Photon Ecstasy allows l'Ao to collaborate and connect with musicians, artists, engineers, and designers. Tonight's installment, Photon Ecstasy (Trappist–1), is composed for an upcoming performance with Tom Piercy at Barge Music.
•••
Brian Padavic's …city flexure… is an extended work for EIO (with electronics realized by David D. McIntire). Composed in 2016 during a residency with the Charlotte Street Foundation, this piece is an exploration of melody. Here, a drone comprised of hundreds of sine waves and processed bass provides a shimmering backdrop over which the musicians search for the melody.
---
Ensemble of Irreproducible Outcomes is David McIntire, Ryan Oldham, and Brian Padavic
David D. McIntire (b. 1958) was born in upstate New York and has had some training on the clarinet. He has maintained his livelihood through playing, teaching, composing, and writing about music for over thirty years. Also played clarinet and saxophone with a number of groups, including the Colorblind James Experience and the Whitman/McIntire Duo. He holds music degrees from Nazareth College, Ithaca College and Missouri-Kansas City and currently teaches at Missouri Western State University. He also operates Irritable Hedgehog, a label specializing in minimal and electroacoustic repertoire, whose releases have been widely praised for their excellence and historical importance.
Composer Ryan Oldham (b. 1977) is an adjunct instructor for the University of Missouri – Kansas City Conservatory of Music and Dance. He holds a B.A. from the Indiana University of Pennsylvania (1999), a M.M. from the University of Louisville (2002) for music composition and theory, and a D.M.A. from the University of Missouri – Kansas City Conservatory of Music and Dance (2008). Oldham's music ranges from piano miniatures to operas and everything in between. Currently, Oldham performs as trumpeter/composer in E.I.O. (the Ensemble of Irreproducible Outcomes) and in the choral group Te Deum.
Brian Padavic composes music covering a wide range of genres and ensemble configurations, from jazz to contemporary concert, American/European folk to avant garde, and rock to musical theater. In 2014, he received grants from the Lighton International Artist Exchange Program and ArtsKC to compose solo bass repertoire while studying with legendary double bassist François Rabbath in Paris, France. Padavic holds composition degrees from UMKC ('12) and Berkley College of Music ('07) and was recently a 2015/2016 Charlotte Street Studio Resident. He currently performs with Ensemble of Irreproducible Outcomes, Chestnut Fine Arts Theater, Anna Lee and the Lucky So and Sos, and KC Baroque Consortium.
Established in January 2016, l'Ao is a collaborative partnership between composer-performers Melissa Grey & David Morneau. [more]
Soft Series is a concert series dedicated to presenting soft premieres of new music in an intimate environment with lively pre- and post-concert conversation.
---