---
Concert no.2 – Farmer Cellist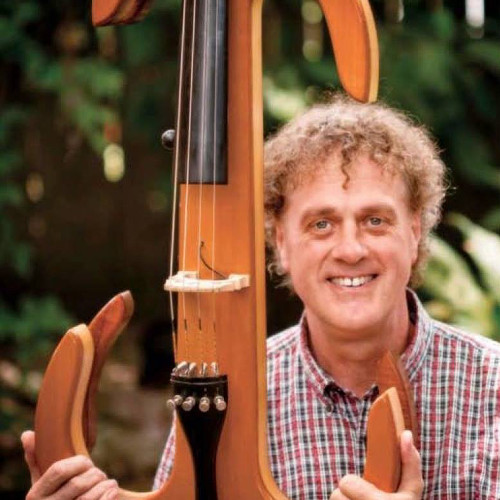 ---
Friday, March 4, 2016
8:00pm (doors open @ 7:30)
@ NOMADLOFT – by invitation only
Program
Cello Club [excerpt, in progress] by David Morneau
[] Craig Hultgren [cello]
New Work for unaccompanied cello by James Romig
[] Craig Hultgren [cello]
Aurora Inscrutabile by Tim Johnson
[] Craig Hultgren [cello]
~improvisation~
[] Craig Hultgren [cello]
About the Artists
For several decades, cellist Craig Hultgren has been a fixture on the scenes for new music, the newly creative arts, and the avant-garde. Recently leaving Birmingham after more than 30 years as a member of the Alabama Symphony, he now resides outside of Decorah, Iowa as the farmer-cellist. A recipient of two Artist Fellowships from the Alabama State Council on the Arts, he was a member for many years of Thámyris, a contemporary chamber music ensemble in Atlanta. He is a founding member of Luna Nova, a new music ensemble with a large repertoire of performances available as podcast downloads on iTunes. Hultgren is featured in three solo CD recordings including The Electro-Acoustic Cello Book on Living Artist Recordings. For ten years, he produced the Hultgren Solo Cello Works Biennial, an international competition that highlighted the best new compositions for the instrument. He taught at the University of Alabama at Birmingham, the Alabama School of Fine Arts and Birmingham-Southern College where he directed the BSC New Music Ensemble. He is a founding member and former President of the Birmingham Art Music Alliance and was on the Board of Directors of the Metropolitan Youth Orchestras of Birmingham and their Scrollworks program. In 2013, Hultgren performed a 15 Minutes of Fame concert titled Occupy Cello in New York for the Composer's Voice Concert Series. That program featured 15 one-minute solo compositions that challenge the traditional boundaries of the instrument. Last fall, he was the featured performer for the La Crosse New Music Festival in Wisconsin.
James Romig (b. 1971) endeavors to create music that reflects the intricate complexity of the natural world, where fundamental structures exert influence on both small-scale iteration and large-scale design, obscuring boundaries between form and content. His music has been performed in 49 states and 30 countries. Notable ensemble performers include the JACK Quartet, Talujon, Ensemble Chronophonie, Duo Contour, Helix, the Khasma Duo, New Muse Duo, the Zodiac Trio, Suono Mobile, and the Quad City Symphony Orchestra. Solo performances include recitals by pianists Ashlee Mack and Taka Kigawa, flutists John McMurtery and Harvey Sollberger, violinist Erik Carlson, and numerous others. Recordings of his music have been released on the Blue Griffin, First Step, and Navona record labels, and also by Perspectives of New Music/Open Space. His percussion works are especially well-known and have received hundreds of performances around the world. Guest-composer visits include Eastman, Buffalo, Cincinnati, Bowling Green, Northwestern, Illinois, and the American Academy in Rome. Residencies include Petrified Forest National Park, Grand Canyon National Park, and Copland House. He holds degrees from Rutgers University (PhD, studying with Charles Wuorinen and Milton Babbitt) and the University of Iowa (MM, BM). He has been on faculty at Western Illinois University since 2002.
Composer Timothy Ernest Johnson is known for music that integrates disparate materials into a multiplicity of expressive dimensions, most recently in a series of works partially based on historical chess games. His large ensemble work Kasparov vs Deep Blue was a finalist in the 2008 Alea III competition and Morphy vs Brunswick and Isouard won the 2004 University of Illinois Symphony Orchestra prize. His co-commissioned electronic work Tensile Strength received a prize in the 2008 International Electroacoustic Music Competition "Musica Nova" in the Czech Republic, and has been featured on two recordings. Johnson has had numerous other works performed in his native Chicago and abroad, and remains active as a classical guitarist, with recent recitals in South Korea and Chicago. As a theorist, Dr. Johnson's most recent presentation was a 2013 guest lecture at the University of Illinois entitled "Ben Johnston's Compositional World: 13-limit Extended Just Intonation."
David Morneau is a composer of an entirely undecided genre. Described by Molly Sheridan as a "shining beacon" of inspiration, his diverse work illuminates ideas about our culture, issues concerning creativity, and even the very nature of music itself. His eclectic output has been described variously as "elegantly rendered", "happily prissy", "impressive", "unusual, esoteric, and offbeat". His recent album, Broken Memory, "absolutely wrecks shop." For that, David Morneau wins." Morneau is Composer-In-Residence at Immigrant Breast Nest and co-produces Soft Series with Melissa Grey.
Soft Series is a concert series dedicated to presenting soft premieres of new music in an intimate environment with lively pre- and post-concert conversation.
---