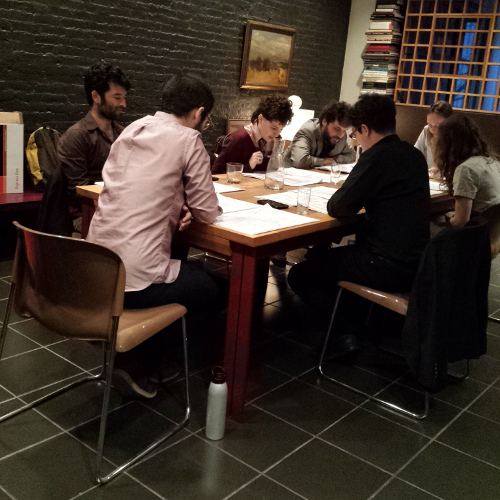 Friday, April 1, 2016
8:00pm (doors open @ 7:30)
@ NOMADLOFT – by invitation only
Program
an arrangement of
Kenneth Gaburo's MALEDETTO
by thingNY & Varispeed
NOTE ON THE ARRANGEMENT
As with Robert Ashley's Perfect Lives and John Cage's Empty Words, Varispeed likes to shake things up a bit with our arrangements by taking a single authoritative voice and splitting it up among a collective. Kenneth Gaburo's Maledetto was written for Speaker A, indicated as male who at times may "appear to be a historian, a mere 'reader,' a pontiff, a circus barker, a teacher, an auctioneer"; Speaker B, indicated as male who is "always cursing"; Speaker D, indicated as female who is "transformational" and "comes to realizations and acts on them positively"; and an SATB chorus. The experiment that Varispeed is trying in this reading is to break-up each of these roles amongst the collective, so that who is reading which part shifts throughout the piece. Why would we do this? The quickest answer might be: to undo the drive toward mansplaining, to look beyond a mode where each gender is confined to particular kinds of vocalization, and, by extension, where certain sexual innuendos – which this piece is replete with – are primarily implied toward male-female couples. We wanted to do more than simply switch the genders of who did what. So this arrangement is infused with a Star-Trek-esque idealism about collective experience and power relations, in hopes that it furthers the spirit of the piece but updates it for a twenty-first-century world. – GB
featuring performances by:
Gelsey Bell is a singer, songwriter, and scholar. She is a core member of Varispeed and thingNY, and her work has been presented internationally. Upcoming performances include the final night of her Roulette residency on April 24th. She has a PhD in performance studies and a keen interest in compositional linguistics. www.gelseybell.com
Brian McCorkle is a composer and performer working with Panoply Performance Laboratory (as co-Director with Esther Neff) and Varispeed Collective. Upcoming projects include "Boleros" as part of this year's Make Music NY festival and PPL's new opera "Embarrassed of the Whole" panoplylab.org/brianmccorkle
Esther Neff is the founder of Panoply Performance Laboratory, an entity situating live acts of collective ideation and performing operas-of-operations. PPL is currently making a new opera entitled "Embarrassed of the Whole" panoplylab.org/estherneff
Paul Pinto is a composer, writer and performer. He's a founder of experimental music ensembles thingNY and Varispeed. An album of his poetic compositions, minis/Trajectories is set to be released in September, and he's writing a psychedelic new electronic opera called Thomas Paine in Violence for the HERE Art Center. pfpinto.com
Dave Ruder is a Brooklyn-based vocalist, clarinetist, guitarist, electronicist, composer, songwriter, writer/librettist, interdisciplinary collaborator, etc. Dave is a key member of the groups Varispeed, thingNY, and Reps. Since 2013, Dave has been the driving force behind Gold Bolus Recordings, which documents the work of NYC's greatest musical weirdos. daveruder.com
Aliza Simons is a founding member of Varispeed. She has released several albums as Why Lie? with Dave Ruder and lives and works in Brooklyn, NY. Also, today is her birthday.
Jeffrey Young is a composer, violinist, and electronic musician from Brooklyn, NY specializing in experimental, rock, and classical music. Recent performance highlights include tours in the US and Europe as a solo artist and with The World/Inferno Friendship Society, Valerie Kuehne and the Wasps Nests, and Paul Pinto. jeffrey-young.com
Varispeed is a collective of composer-performers that creates site-specific, sometimes-participatory, oftentimes-durational, forevermore-experimental events. Founded by Aliza Simons, Dave Ruder, Paul Pinto, Brian McCorkle, and Gelsey Bell, Varispeed came together in June 2011 to perform Perfect Lives Brooklyn, a 12-hour celebration of Robert Ashley's landmark opera. varispeedcollective.com
thingNY is a 501c3 not-for-profit collective of composer-performers who create and perform theatrically charged experimental music, champion the work of avant-garde and contemporary classical composers, and collaborate across disciplines, media and genres. thingNY.com