---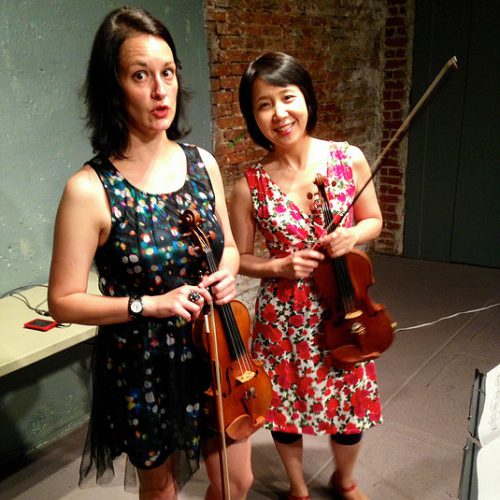 ---
Violin Duo
Miolina was formed in 2012 when artistic director/violinist Mioi Takeda decided to form a violin duo with longtime collaborator, violinist/composer Lynn Bechtold. To date, the duo has had successful performances in NYC at The Church of the Transfiguration, City Lore, Gallery MC, Greenwich House Music School, (le) Poisson Rouge, The Morbid Anatomy Museum, Parsons School of Design, Queens Library, Spectrum, St. Mark's Church, and Turtle Bay Music School, as well as at Experimental Sound Studio in Chicago, at Monk Space in Los Angeles, and at the Cité Internationale des Arts and l'Institut Finlandais in Paris, France. In addition, they have performed on series and festivals such as Circuit Bridges, Composers Concordance, and Electronic Music Midwest. Miolina specializes in violin duo music that employs the natural beauty and sound of the instruments, with or without electronics and video. They enjoy collaborating on new compositions with composers, as well as discovering hidden gems of the past. In the last three years, they've premiered eleven new works. Some of their recent collaborators include cellist Jennifer DeVore and percussionists Ian Ding and Eric Millstein. Miolina's future productions include creating music for silent Japanese films of the 1920s, and an educational program about immigration and its influence on composers. Both violinists are longtime advocates of new music, and have performed with various new music groups, including the American Symphony Orchestra, Composers Concordance, Glass Farm Ensemble, North/South Consonance, SEM Ensemble, & VIA. They are recipients of a 2015 grant from the Lower Manhattan Cultural Council, and a 2014 grant from New York Women Composers, and were recently granted 501(c)3 non-profit status. They will be recording their first album in late summer 2016.
Since she settled in NYC, Japanese violinist Mioi Takeda earned her reputation as a soloist, chamber musician, orchestral player, and as a seasoned new music specialist in town. As Miolina's artistic director, her mission is clear: encourage composers to write music for violin duo employing the natural beauty and sound of the instruments, without limitations. She also hopes to expand the violin-duo repertory for future generations. Mioi wants to help rediscover neglected violin-duo compositions by old masters, and to share the joy of current violin-duo music with her audiences.
In addition, Ms. Takeda has performed with new music groups, including North/South Consonance as concertmaster, SEM Ensemble, and Composers Concordance, giving countless premieres. She has also performed with the Orchestra of St. Luke's, American Symphony Orchestra, Washington Square Festival, Scandia Symphony, Stamford Symphony, Strathmere Orchestra, The Japan Philharmonic, and The New Japan Philharmonic. Ms. Takeda's performances can be heard on North/South and Naxos Recordings.
Mioi was a scholarship student of Dorothy DeLay and Masao Kawasaki at The Juilliard School, and she earned a Doctorate of Musical Arts from The City University of New York under the guidance of Itzhak Perlman. She also enjoys doing yoga and watching The Big Bang Theory when she is not playing the violin.
Violinist Lynn Bechtold has appeared in recital throughout the U.S., Canada, France, Holland, and Switzerland. An advocate of contemporary music, she has worked with composers such as Carter Burwell, Gloria Coates, George Crumb, John Harbison, and Morton Subotnick, and has premiered works on the NWEAMO Festival, Princeton Composers' Series, and the TriBeCa New Music Festival. In 2001, she gave the premiere of "Violynn," a work for violin and electronics written for her by Alvin Lucier. Called 'up-and-coming' by TimeOut and noted in All About Jazz for her 'virtuosity and technical expertise,' she performs with Miolina, Zentripetal, Bleecker StQ, CompCord Ensemble, North/South Consonance, SEM Ensemble, and the disco band Escort, and has been a member of groups that have included the Grammy-nominated East Village Opera Company (rock/opera band). San Diego Story recently called her "unapologetically dominating."
She has been heard on CBC Radio, CBS-TV, NBC-TV, NHK-TV, and WNYC, and on TV shows such as 30 Rock & Unbreakable Kimmy Schmidt. Recent programs have been with Catalyst Dance, DJ Spooky, VisionIntoArt, and Pablo Ziegler. In addition, she's performed with entertainers such as Boyz II Men, Willie Colon, Sheryl Crow, Dead Can Dance, Darcy James Argue's Secret Society Band, Roberta Flack, Left Banke, Smokey Robinson, J-Pop band SMAP, Donna Summer, and Stevie Wonder. An active performer, she has performed at diverse venues from Carnegie Hall & Lincoln Center to Joe's Pub & Madison Square Garden.
She received her M.M.from Mannes-The New School for Music, where she was a student of noted violinist Felix Galimir. Prior to that, she received a double-degree in Violin and English from the New England Conservatory and Tufts University in Boston. In addition, she likes to compose electroacoustic works, and to write articles about food/music/life. Her compositions have been performed on festivals such as Circuit Bridges, Composers Concordance, and Music With a View. She is on the faculty of The Dwight School and Greenwich House Music School in NYC, and the Norwalk Youth Symphony in CT.
---